26 Jul 2023
NIOX® celebrates 25 years of FeNO for asthma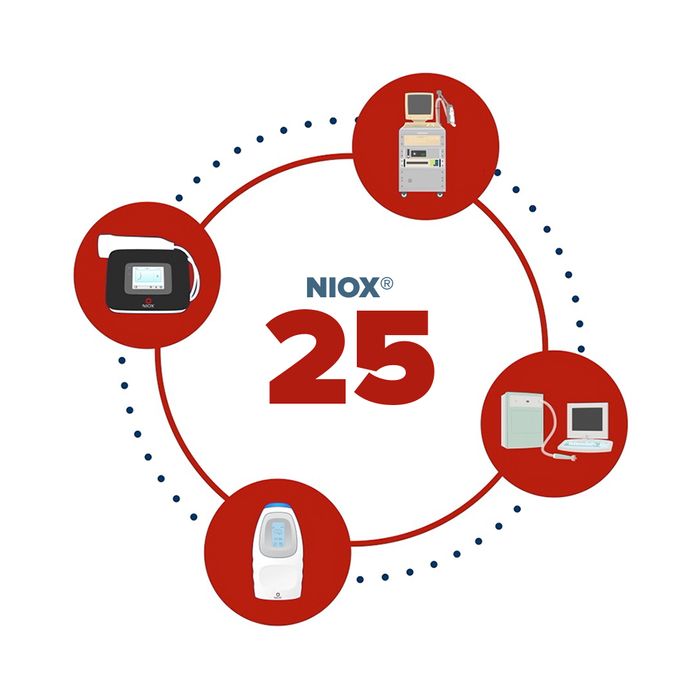 NIOX® celebrates 25 years of FeNO for asthma
Oxford, UK. 13 June 2023 – It's the 25th anniversary of FeNO testing by NIOX®, pioneers of portable testing devices for increased patient access. To celebrate, we're releasing a short film of the FeNO story, from a lightbulb moment in a Stockholm laboratory to the market-leading devices of today.
FeNO testing has become a mainstay for many in the asthma clinic, with high FeNO indicating that having asthma is seven times more likely than for people with normal levels.1 FeNO-guided asthma management – spotting where patients might need to adjust their treatment – is also proven to help reduce asthma attacks by up to 50%!2,3 Remarkable results for a point-of-care test4 that takes less than two minutes to complete.
Karis Baker, NIOX® Scientific Lead, said: "1,000 people die every day because of asthma and two-thirds of those deaths could be avoided.5,6 300 million people have asthma globally and previous research has highlighted that 50% of patients report at least one asthma attack in a year.3,7 The numbers are high but FeNO testing can help enhance asthma care.2,8,9 We are incredibly proud to have led the way and to know that the original discovery of the benefits of FeNO led to the foundation of NIOX® itself!"
The award-winning NIOX VERO® is the device of choice for FeNO testing worldwide10, with nearly 50 million tests performed so far. NIOX® also works extensively on both healthcare professional and patient awareness of FeNO, believing that as many people as possible should be able to access testing. There's complimentary in-person training, as well as a range of online masterclasses and expert-led webinars.
FeNO testing is widely available and we want to see it helping to improve the lives of many more people. Anyone with asthma or who thinks they might have it, is encouraged to speak to their healthcare team about having a test.
To mark the anniversary, NIOX® invites you to take a trip down memory lane with us and watch the FeNO story in a brand-new short film. Peak through the window of the scientists' laboratory as the team discover what FeNO can do. Follow the journey as FeNO makes its way across the world and share our entertaining look at the evolution of test technology as we flick through the family album to see how NIOX® has matured from rolling in on wheels to today's compact desktop device.
References
Wang Z et al. Agency for Healthcare Research and Quality (AHRQ). The clinical utility of fractional exhaled nitric oxide (FeNO) in asthma management. Comparative Effectiveness Reviews, 197. 2017.
Petsky HL et al. Exhaled nitric oxide levels to guide treatment for adults with asthma. Cochrane Database Syst Rev. 2016;9(9):CD011440.
Porsbjerg C et al. Asthma. The Lancet. 2023.
Busse WW et al. Baseline FeNO as a prognostic biomarker for subsequent severe asthma exacerbations in patients with uncontrolled, moderate-to-severe asthma receiving placebo in the LIBERTY ASTHMA QUEST study: a post-hoc analysis. Lancet Respir Med. 2021;9(10):1165-1173.
Global Asthma Network. The Global Asthma Report. 2018.
Asthma & Lung UK. What is asthma? 2023. Available at; https://www.asthmaandlung.org.uk/conditions/asthma/what-asthma. Accessed; June 2023.
Centers for Disease Control and Prevention (CDC. Vital signs: asthma prevalence, disease characteristics, and self-management education: United States, 2001--2009. MMWR. Morbidity and mortality weekly report. 2011 May 6;60(17):547-52.
Hanania NA et al. Measurement of fractional exhaled nitric oxide in real-world clinical practice alters asthma treatment decisions. Ann Allergy Asthma Immunol. 2018;120(4):414-418.
Menzies-Gow A et al. Clinical utility of fractional exhaled nitric oxide in severe asthma management. Eur Respir J. 2020;55(3):1901633.
NIOX®. Data on File; MKT-DOF-006. 2023.
http://niox.com/en-gb/25#video