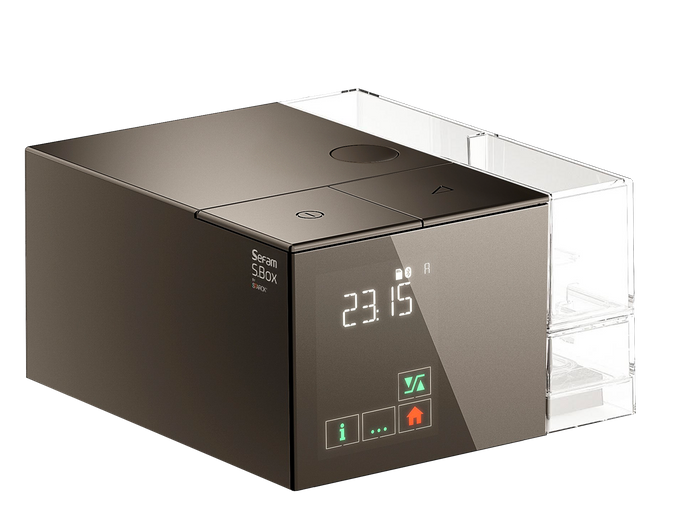 Introducing the Sefam S. Box: Empowering Patients in Sleep Medicine
The Sefam S. Box is more than just a treatment device; it's a revolution in the co-management of sleep-disordered breathing conditions. By engaging patients in their own care, the S. Box concept brings a new level of personalisation to sleep medicine.
Features and Benefits:
Comprehensive Monitoring: The S. Box integrates various physiological parameters, including lifestyle, weight, physical activity, blood pressure, and heart rate, to provide a complete picture of treatment efficiency.

SEFAM Access Lite Mobile App: This app facilitates seamless interaction between patients and healthcare professionals through surveys and messaging tools, making communication a breeze.

Secured Data Management: All patient data is encrypted and stored anonymously in the 'Sefam Connect' database, accessible only to authorized stakeholders, ensuring privacy and security.

Bluetooth Connectivity: The Sefam Access Lite app communicates with the S. Box using Bluetooth, allowing only devices listed in the app to connect.

Personalised Care Pathway: The S. Box concept offers healthcare professionals the opportunity to make patient treatment and follow-up more precise, tailored to individual needs.

Innovative Functions: From Intelligent Ramp (IRAMP) to Adaptive Thermo Control (ATC), the S. Box is packed with patented features that enhance comfort and efficiency.

Technical Specifications: With a noise level of 26 dBA, adjustable pressure, and compact dimensions, the S. Box is designed for optimal performance.
The Future of Sleep Medicine:
The S. Box concept is at the core of personalised sleep medicine. Its multi-connectivity options (Bluetooth®, 3G, Wi-Fi) integrate physiological parameters and lifestyle data, providing a comprehensive treatment overview. The SEFAM Connect telemonitoring platform assures the security of all information transmitted, while the mobile apps SEFAM Access (for the patient) and SEFAM Access Pro (for the home care provider) provide easy access to this information.
The Sefam S. Box is not just a product; it's a pathway to better sleep health, offering healthcare professionals and patients alike a smarter, more adaptive approach to treatment. Experience the future of sleep medicine with the Sefam S. Box.