22 Aug 2023
SEFAM Analyze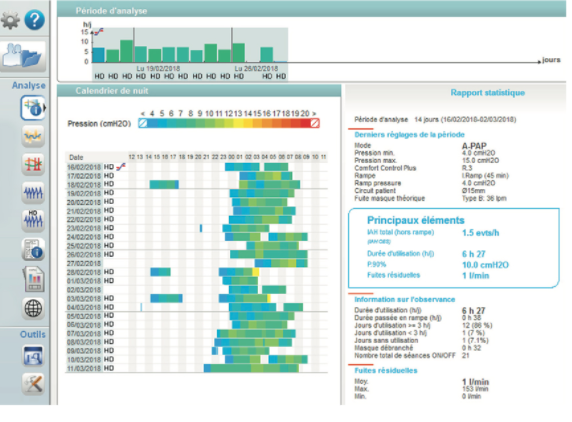 Introducing SEFAM Analyze: The Ultimate Data Management Solution for Healthcare Professionals
SEFAM Analyze is a cutting-edge desktop data management software designed exclusively for healthcare professionals working with the S.Box platform. This powerful tool offers a comprehensive suite of functions that streamline the management and analysis of patient data.
Key Features:
Compliance Data Recovery: Effortlessly retrieve compliance data, ensuring accurate and timely monitoring of patient adherence.

Advanced Visualization and Analysis: Analyze all data, including high-definition details such as flow rate or SPO2 from an external oximeter. This in-depth analysis provides valuable insights into patient progress.

Configurable Observance Report: Customize and generate observance reports to suit specific needs, enhancing communication and understanding between healthcare providers.

SEFAM Connect Integration: With the Up to Cloud function, seamlessly send data to the SEFAM Connect platform, ensuring a unified and efficient data management system.

S.Box Settings Configuration: Tailor the S.Box settings to individual patient needs, offering a personalized approach to treatment.

Multi-Session Pre-Programming: Pre-program several sessions with varying parameters during the titration period, allowing for flexible and adaptive treatment plans.
A New Standard in Patient Data Management:
SEFAM Analyze is more than just software; it's a vital component in the modern healthcare professional's toolkit. By centralizing and simplifying the complex tasks of data recovery, analysis, and reporting, it allows for more focused and effective patient care.
Whether it's the detailed visualization of data or the ability to pre-program treatment sessions, SEFAM Analyze offers unparalleled control and insight. It's not just about managing data; it's about understanding it and using it to enhance patient outcomes.
Experience the future of healthcare data management with SEFAM Analyze. It's not just a tool; it's a partner in delivering exceptional patient care.