22 Aug 2023
SEFAM Connect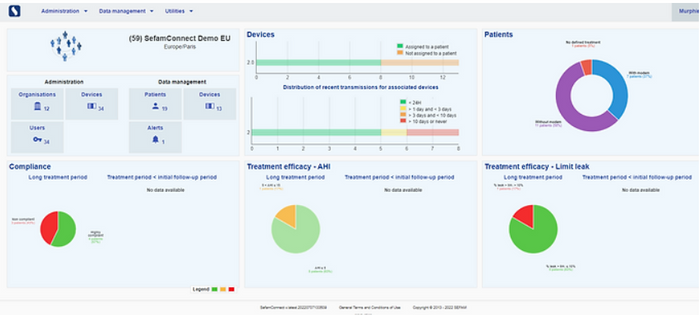 Introducing SEFAM Connect: The Cloud-Based Solution for Healthcare Providers
SEFAM Connect is a comprehensive cloud-based application designed exclusively for healthcare professionals. It's more than just a tool; it's a complete solution that streamlines patient follow-up, machine monitoring, and data management.
Key Features:
Machine Performance Monitoring: Keep track of machine performance with ease, ensuring optimal functionality at all times.

Compliance Data Transmission: Transmit compliance data seamlessly, maintaining the highest standards of patient care.

Rapid Access to Information: Access processing information via simple tables and graphs, synthesizing the main processing parameters for quick insights.

Alert Programming: Identify problems at the earliest opportunity with customized alert programming, minimizing downtime and enhancing patient care.

Remote Access to Machine Settings: Change settings remotely, offering unparalleled control and flexibility in machine management.

Monitoring of the Machines Park: A comprehensive overview of all machines, allowing for efficient management and maintenance.

Security and Data Confidentiality: Reserved for healthcare professionals, SEFAM Connect guarantees the utmost security and confidentiality of patient data.
A Complete Solution for Modern Healthcare:
SEFAM Connect is not just an application; it's a revolution in healthcare management. By offering a simple and intuitive interface, it empowers healthcare providers to focus on what truly matters: patient care.
From monitoring to remote access, SEFAM Connect brings everything under one platform, offering a streamlined approach to healthcare provision. Its focus on security and data confidentiality further establishes it as a trusted solution for healthcare professionals.
Experience the future of healthcare management with SEFAM Connect. It's not just about connecting machines; it's about connecting care.