21 Nov 2021
Respiratory Professional Care Celebrates Its Successful Return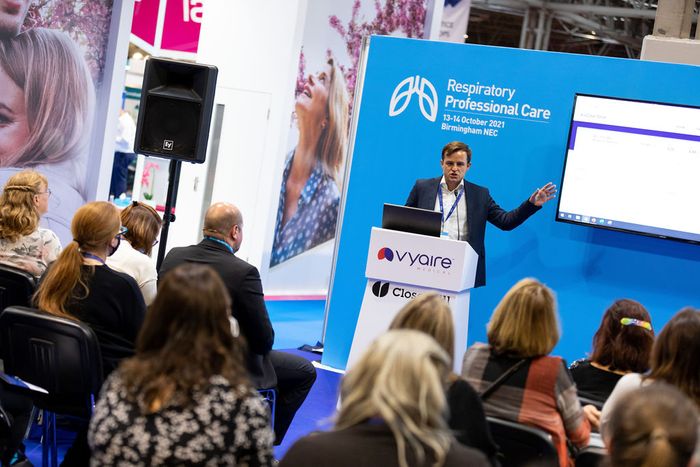 CloserStill Media Report 11/11/2021: Respiratory Professional Care returned to the NEC Birmingham on 13-14 October 2021.
Over 760 healthcare professionals attended three content theatres at the NEC Birmingham on 13-14 October to celebrate the return of Respiratory Professional Care, the UK's home for the respiratory community.
The free-to-attend conference and exhibition included over 40 expert-led presentations and 50 exhibitors, including Resmed, Pulmonix and Vitalograph. The show highlights video can be viewed at: https://bit.ly/3n4MfSs
Being the first face-to-face reunion of the respiratory care community, Respiratory Professional Care hosted important and timely clinical and policy sessions surrounding current issues affecting respiratory care. These sessions occurred across three theatres and workshops as well as offering multiple networking opportunities on the exhibition floor. The Keynote Theatre had a focus on issues surrounding healthcare inequality and climate change. In addition, with the Clinical Theatre and the Hands-on Skills Theatre bringing visitors more opportunities to enhance and update their knowledge, the show was designed to support the respiratory community to catch up on information they may have missed, examine how different teams have addressed common challenges and move forward with learning from the pandemic.
Feedback from Respiratory Professional Care exhibitors was also hugely positive – with businesses reporting two extremely successful days of business and networking. They also noted the special atmosphere around the exhibition floor. Exhibitors were delighted to be back at an in-person event meeting with customers and suppliers.
Below are just a few testimonials from our visitors in 2021:
"'It's been a wonderful two days, getting to chat and hear from professional leads and experts in their field around areas I have an interest in at work and that I would like to develop my skills in. It's been a wonderful experience coming down and speaking to so many people and networking. I would definitely recommend it for anyone who wants to enhance their skills and practice." - NHS Physiotherapist, NHS Greater Glasgow and Clyde
"It was really nice to be at a face-to-face meeting, because seeing people in front of you is much easier when you're speaking and it was really important to get the message out there about the importance of changing the organisation of services in hospitals so that we can deliver better care for respiratory patients who are acutely unwell." – Consultant in Respiratory and Intensive Care Medicine
"It's great to be here, finally doing a face-to-face conference after all this time. It's taken a while just to get back into the swing of things, but it's good to see people and connect and have those face-to-face conversations and meaningful discussions." – GP Principal
Show organisers, CloserStill Media announced the show will return on 12-13 October 2022 and attendees can register their interest today at: https://bit.ly/3c3sKDy
-ENDS-
CloserStill Media, specialise in global professional events within the healthcare and technology markets. The healthcare portfolio includes some of the UK's fastest-growing and award-winning events, such as Best Practice, The Clinical Pharmacy Congress, The Dentistry Show, The Care Show and Acute & General Medicine.
It is a market leading innovator. With its teams and international events, it has won multiple awards, including Best Marketer – five times in succession – Best Trade Exhibition, Best Launch Exhibition, and Sunday Times Top 100 Companies to Work For – four years in series – among others.
CloserStill Media delivers unparalleled quality and relevant audiences for all its exhibitions, delivering NHS and private sector healthcare professionals from across occupational therapy, pharmacy, dentistry, primary and secondary care with more than £16m worth of free training.
For more information please contact:
Exhibition and speaker enquiries: Ian Reynolds – i.reynolds@closerstillmedia.com
Marketing enquiries: Shannon Cargan - s.cargan@closerstillmedia.com